The main character of the story is
Locke D'Averam
, a
revenant
named after the house of Averam, which raised him from the dead. His real name is never revealed in the game. Immediately after being brought back from Anserak (
Hell
), Locke is sent on a
quest
by his new master, Sardok, who is the advisor to Lord Tendrick, ruler of the island. The quest is to locate and rescue the Tendricks' long-missing daughter, Andria, who was kidnapped by a mysterious cult calling themselves The Children of the Change. The entire game takes place on the island of Ahkuilon, which is home to the town of Misthaven, where Tendrick rules.
As the player progresses through the story, it is revealed that Locke was once the king of an ancient empire centered on Ahkuilon. This warrior-king made a pact with a demon god, but he found the price of the pact - his beautiful wife's soul - too much to bear and could not go through with her sacrifice. For this reason he was condemned by the demon god to an eternity of suffering in Anserak and his mighty empire was destroyed and pulled into the earth.
The cult that the newly resurrected Locke finds himself facing is in fact led by the avatar of the same demon god he betrayed ages ago. As he explores Ahkuilon in pursuit of the missing Andria, Locke finds himself facing enemies both new and ancient. Many characters in the game hint that there is a "darkness" surrounding Locke and some even seem to know of his past. As the story builds to a climax it becomes clear that not all is as it seems and that history may yet repeat itself.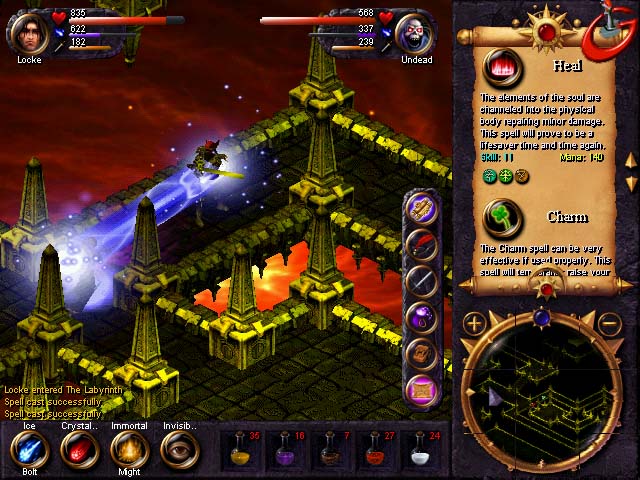 MINIMUM
Windows 98/2000/ME/XP
Pentium III or AMD Athlon 800MHz Processor
256MB RAM
2GB Hard Disk Space
Nvidia TNT2, GeForce 1, 2 or 3, ATI Radeon 7000, 7200, 7500 or 8500, or Matrox G450 Video Card
DirectX Compatible Sound Card
DirectX 9
MAXIMUM
Windows 7/Vista (32 or 64 bit)
Intel i7 Quad Core 2.8Ghz or AMD equivalent
3GB System RAM (High)
30 GB Hard dDisk Space
nVidia GeForce 9800 GTX / ATI Radeon HD4850 Video Card
Direct X 9.0 compatible supporting Dolby Digital Live
DirectX 9.0 - DirectX 11
Do You Like This Game