Bookworm Adventures
is a follow-up to the word-forming
computer puzzle game
Bookworm
from
PopCap Games
. Released in November 2006,
Bookworm Adventures
combines the "create words from sets of letters" aspect of
Bookworm
with several elements of a
role-playing video game
. In the 2007
Interactive Achievement Awards
,
Bookworm Adventures
won the "Downloadable Game of the Year".
The game also won three Zeeby awards for Best Word & Trivia Game of 2006, Best Game Design of 2006 and Best Story/Narrative of 2006.
Players guide Lex the Bookworm (voiced by Chief Creative Officer of PopCap, Jason Kapalka) through a number of stages, battling creatures along the way (which are largely based on
Greek Mythology
, tales from
1001 Arabian Nights
and
Gothic fiction
, while the foes in the game's sequel are based on
Fairy tales
,
Chinese mythology
and
Science fiction
). Each battle consists of Lex squaring off against a given foe. Both Lex and his adversary have health meters (represented by a number of hearts), which, when depleted, signal defeat. However, unlike more traditional role-playing games where players might injure their opponents with arms or magic, enemies in
Bookworm Adventures
are damaged by forming words.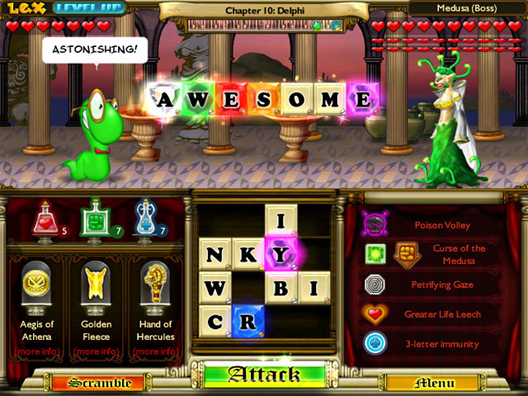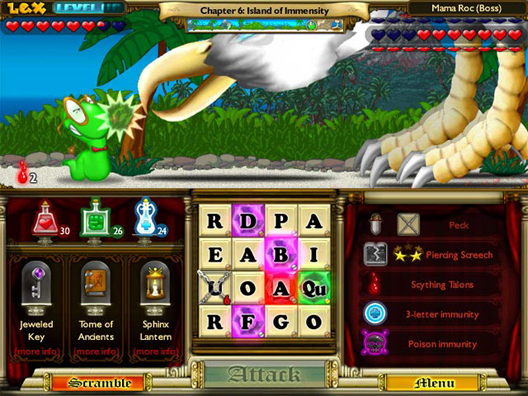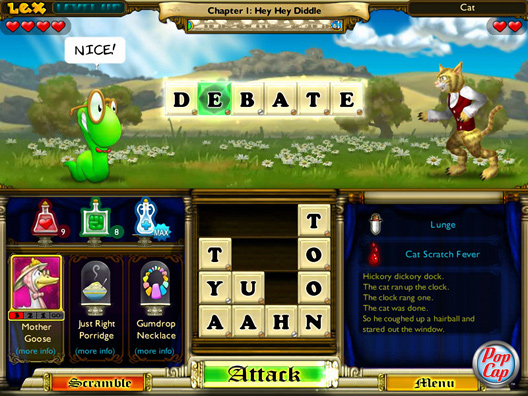 SYSTEM REQUIREMENTS
MINIMUM PC REQUIREMENTS
Windows 98/ME/2000/XP/Vista
Pentium II 700MHz Processor
256MB RAM
37MB Hard Disk Space
DirectX 7
16-Bit Video Card
DirectX Certified Sound Card
CD/DVD-ROM Drive
Do You Like This Game