The game is played on a square board divided into 20 rows and 20 columns, for a total of 400 squares. There are a total of 84 game tiles, organized into 21 shapes in each of four colors: blue, yellow, red, and green. The 21 shapes are based on
free polyominoes
of from one to five squares (one monomino, one
domino
, two
trominoes
/triominoes, five
tetrominoes
, and 12
pentominoes
).
The standard rules of play for all variations of the game are as follows:
[2]
Order of play is based on color, with blue going first, followed by yellow, red, and green.
The first piece played of each color is placed in one of the board's four corners. Each new piece played must be placed so that it touches at least one piece of the same color, with only corner-to-corner contact allowed—edges cannot touch. However, edge-to-edge contact is allowed when two pieces of different color are involved.
When a player cannot place a piece, he or she passes, and play continues as normal. The game ends when no one can place a piece.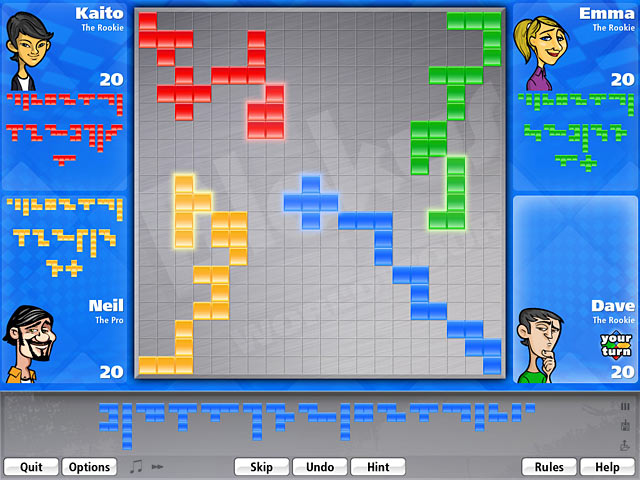 MINIMUM
Windows 98/2000/ME/XP
Pentium III or AMD Athlon 800MHz Processor
256MB RAM
2GB Hard Disk Space
Nvidia TNT2, GeForce 1, 2 or 3, ATI Radeon 7000, 7200, 7500 or 8500, or Matrox G450 Video Card
DirectX Compatible Sound Card
DirectX 9
MAXIMUM
Windows 7/Vista (32 or 64 bit)
Intel i7 Quad Core 2.8Ghz or AMD equivalent
3GB System RAM (High)
30 GB Hard dDisk Space
nVidia GeForce 9800 GTX / ATI Radeon HD4850 Video Card
Direct X 9.0 compatible supporting Dolby Digital Live
DirectX 9.0 - DirectX 11
Do You Like This Game